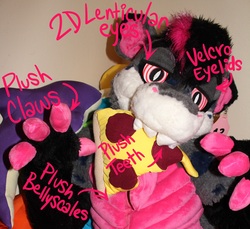 Step 1: Quote
Fill out a quote form with all the details you want to include in your suit. Be sure to check my
available features page
for everything I can do! Also consider where you want your zipper, whether you need your head
fitted for glasses
, what type of eyes will have the best vision, and other
practical details
. If you have reference art
there's no need to describe the colours or markings
, so just stick to what you
want your actual, physical fursuit to look, fit, & feel like.
---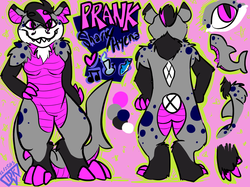 Full 2- or 3-view reference art is preferred for large commissions like fullsuits, partials and heads can be made from any character art. You can also send pictures of other fursuits with similar shapes, mine or others'. More reference is always a good thing! Keep in mind that I CANNOT make copies or 'recolours' of any of the fursuits on this site or by any other maker, I also CANNOT accept copyrighted characters.

If you have no design in mind & would like an artistic liberty commission, feel free to leave the reference blank & just include any specific details you'd like.


---
Step 2: Design
Once you've put at least 1/3 of your final price down, your slot is secure & we'll go over details a bit more in-depth. I'll get measurements, confirm all your details & fur colours, and you'll get a preview of what your finished costume will look like!

Complete material swatch packs are now available by request for all fursuit commissions! Get a labelled pack of fur, minky, fleece, and spandex lining that will be used in your commission.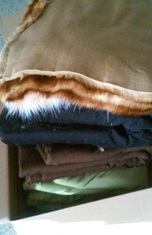 You'll recieve
concept art
(price included in your quote, BUT if you want to see what your character would like in my style,
I can do a fursuit-style reference without a fursuit commission!
) for your costume next. I use this as a working guide for me, plus a confirmation of your design & a preview of your costume for you! Your concept art will list all your fur colours & materials, too. If you want to order swatches to check out yourself, I can give you links to all the furs that'll be used.
You'll also recieve a scan of your commission sheet to confirm all your details. It includes
measurements, payment info, contact info, and fur & detail info.
Once everything looks good, all your have to do is wait for your time in line! You can track commission on
Twitter
&
Trello
, too!
---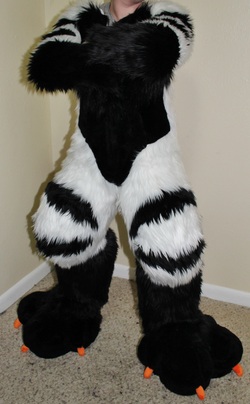 Once you get closer to your work date (which you'll be given when your slot is secured) you can send in your Duct Tape Dummy for bodysuit fitting. Here's a few tips for a good DTD:
Use a painters' suit instead of old clothing. They're cheap, easy to cut through, and easy to restuff. Clothing also tends to peel off, leaving the insides to stick to each other & ruin the shape of the DTD.
Be prepared for it! It takes a few hours & is fairly uncomfortable. Use something to rest your arms on, as you'll need to keep them out at your sides. Be sure to bathe, eat, drink, and go to the bathroom ahead of time, too!
Wear what you'll fursuit in underneath, so you get an accurate sizing of what will be inside the suit.
Write your address, name, and/or character name somewhere on your DTD to be sure it doesn't get mixed up with anyone else's! Also be sure to mark your belt line/tail hole, marking the bends of your elbows & knees can help too!
TAPE IT BACK TOGETHER once you've cut it off! This is the most important step! You DTD should be ready-to-stuff out of the box, leaving your DTD in pieces will slow down your commission & could result in a fee of up to $150 for extra work.
---
Step 3: Shipping
All you need to secure a slot is a downpayment of at least 1/3. After that, you can either make payments (at least $100/month) as your costume is being made, or wait until your commission is ready-to-ship to pay the remainder & shipping costs off.


Shipping is done through USPS Priority or Express. Priority arrives within 2-3 days, includes a tracking number & optional insurance, and costs around $50-75 depending on the size & weight of the costume. Express shipping arrives overnight, includes a tracking number & optional insurance, and costs around $100-150 depending on size & weight. Express shipping is limited to weekdays (including Friday) until 1pm ONLY.
I can also hand-deliver at any cons I'm going to, if you'd like to save on shipping AND have your suit ready-to-go at the convention!